2017 Memorial Day in Elk City
Elk City always has a big Memorial Day Weekend, families remembering their loved ones by decorating them with flowers, Military is remembered with a flag at each gravestone and a memorial program at the Military Memorial Plot.
---
2017 ECHS Alumni Banquet
The 2017 Alumni Banquet was held the 27th of May. This year there were only 55 alumni guests were present. A small group but everyone had a great time remembering old times. Here are a few pictures taken by Janice Keath.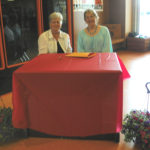 ---
---
First Christian Church Congregation 1962
When Elk City was a thriving town back in 1962 the First Christian Church took a picture of their congregation.  Picture kindly shared by Margie Warren.
1962 First Christian Church Congregation
Around Town
Elk City held a consignment auction June 3rd, a sunny day that was beautiful and got hot as the day went on. The Elk City Community Building Seniors had a few things to sell, lots of items available and old time equipment. There also were several garage sales around town. It was a busy day. PRIDE provided lunch at the auction.
Frank Foster turned 95 in June and had a big write up on local paper on his Military Career, serving in WII, Korea,and Vietnam Veteran. Attending Memorial day ceremony at Elk City Ks., my home town
FCE hosted their annual spring tea with a lesson on "Funky Foods" lots of interesting foods to try.
Congratulations to E. Speicher. He is going to attend the University of Northern Iowa (Division 1)to further his Education and play football. He knows how to work hard for something he loves!!!
Myrtle Cox's Rose by Jane
Years ago Joe Cox planted this beautiful red rose at the First Christian Church for his mother, Myrtle. It grew, it bloomed and then after a few years it began to die. I tried to dig it up and couldn't get all the roots. It had begun to regrow when the church burned. So before the demolition started, I once again tried to dig it up. I brought what roots I could get dug up home and whaaalaaa…3 yrs. later the Myrtle bush is beautiful again!!! Myrtle is always with us Joe! I would have waited until it was in full bloom to post, but who knows if the rain that is predicted this weekend will beat the blooms or not.
Memories by Darrel Hadley
I have some memories of Elk City Kansas, the old grocery store showing in the picture on the right side of Marrs' Drug Store. Memories of movies showing on the wall. When I was little, the projector was in the feed store across the street.   My father's name was Harold Villard Hadley and my mother's name was Catherine plastic Hadley I had brothers and sisters that graduated from the old high school there in Elk City Kansas, my grandfather lived there for a long time.   He passed away, he used to live across from us.  My oldest brother first name is Edgar Dennis, sister was Christine then Maxine and a few others that I'm starting not remember but the Hadley family lived here for a long time I grew up in a two-story Farmhouse down the street from the old high school.   I remember Garrett at the grocery store. My mother and father are buried at the cemetery across the highway from Elk City Kansas and my grandfather is buried there too.
Here are the names of my sisters and my brothers and the years that they were born in order and you could see the older sister was born in 1924 on down to me which I'm the next to the last some of these you can find in school records at Elk City Kansas high school elementary and Junior High it won't help you when people see it and they will remember a lot of things to show you. Polly will get a lot of information after you put your newsletter out. I noticed that there's two of my family already passed away I don't know who still alive but we are all slowly disappearing.

Ida Katheine Hadley Dec. 2,1924
Josephine Rose Hadley Jan. 4,1928 graduated 1947
Edgar Harold Hadley Nov. 21,1930 graduated 1949
Elizabeth Anna Hadley Aug. 14,1934
Christiana Carrol Hadley July 13,1935
James Blasnek Hadley July 3,1938
Maxine Ruth Hadley May 4,1940
Victoria Patrica Hadley July 4,1942
Diana Dienice Hadley Sep. 4,1943
Darrel Dee Hadley Feb. 1,1945
Gary Dale Hadley Oct. 2,1947
Church News
United Methodist Church of Elk City has united with the Methodist church in Havana. Mothers Day Sunday was held at Elk City. The Methodist Ladies lesson in June was; "Women Empowered for Economic Justice".
Church of the Nazarene showed the film "The Shack" in May. Honored Mothers on Mothers Day and the Graduates.
Elk City High School Alumni Minutes from the past
1940
The Elk City High School Alumni Association Served its third annual banquet on Friday May 24, 1940.
Members found their places according to the year of their graduation.
President Mrs. Paul Rankin
Invocation, Pauline James
Group Singing was lead by Mrs. Vada Brown Wright
Dinner was prepared by the "In as Much Class" of the Christian Church and were served by the Junior Class to one hundred and thirty four guests.
The decoration schemes carried out the ideas of the Old Oaken Bucket".
Toast Master Mr. Lyle Mason introduced the following program:
E choes Elizabeth Owen Watts, Vocal by Phillip Cox
C arring on, Carl James Jr., violin duet Carl and Don Ellison
H ints for growth, Ethel Dickerson Cox
Out of town visitors introduced by Maude Harrison Clingan. Total expenses for 1940 was $12.18
1941
4th Annual Banquet was held May 16, 1941, total of 104 persons.
President Myrtle Elmore Cox class of 1924
Invocation by Robert Foster class of 1941
Group singing by Mrs. Ellen Eversole Smoot
Toastmaster Nelson Lucius presented the program: FUTURE
F Food for thought by Belendena Wilson Bruce class of 1925
U Uncertainty, Linn Horton class of 1920
T The Roster of E.C.H.S. Achievements, Willena Watts
u Unity, Mae Couch Whistler 1930
R Roll Call
E Entertainment Seniors of 1941
Dinner served by the Methodist Church Ladies Aid. Expenses $9.82
1942
Fifth Annual Banquet May 29, 1942 115 persons attended
President – Milo Bruce class of 1924
Invocation – Louise Davidson 1942
Group Singing led by Vada Wright
Served by the "In As Much Class"
Toastmaster Susie Tusing Rankin class of 1927
Program was VICTORY
V – Value by Lysle Mason, 1935
I – Influence by Ethyl Giullespie Jones 1903
C – Courage by Brice Durbin
T – Talent by Mrs. Page Manley
O – Opportunity by Willena Watts, 1935
R – Reality by Jannette Kyger, 1933
Y – Youth by Brice Durbin
A musicl solo was given by Mrs. Brice Durbin. A quartet composed of Mrs. Page Manley, Bernice Merritt Lessman, Phillip Cox and Dick Lessman.
Next years officers were elected:
President Mrs. Herman Cox
V. President: Harold McCord
Secretry/Treasurer Norma Koger
The evening was spent dancing. Total cost in Treasuerer Report was $9.90 Tickets sold $11.60.
There are no notes for 1943, 1944, 1945. Not sure if they are missing here OR Alumni Banquet canceled because of War 2. The next minutes are from 1946
Tid Bits by Jane
April
The farmers started their corn planting the last of March, they are so much happier when they are playing in the dirt! But it was DRY dirt and many of them stopped planting and prayed for rain. Well, their prayers were heard! Longton area had 4-6", more like 2-3" in the Elk City area. So now they are hoping the corn they did plant won't drown or will come up because they planted deep to find moisture or that it will dry up in time to finish planting what they started. Most of the corn did seem to make it up, just have to wait and see on how good the stand will be. Hmm…mother nature and farmer just doesn't seem to be on the same wave length at times.
An old saying: the wheat should be tall enough to hide a bunny by Easter. Most of the wheat looks that tall. Some farmers reported hail damage from the wind storm first part of April. We escaped any wind damage, but I've heard of roofs, buildings and trees that were damaged. Several area farmers have hail damage to the wheat. Even if you're insured, it's still wait until harvest to see how much damage.
Spring is also the season for burning pastures and sometimes those controlled burns are not so controlled. This rain definitely put an end to the pasture burning and smoke filled air! Some that wanted to burn now won't get a very good burn with the wet and green grass. Speaking of grass, I could bale hay before ours was mowed the first time!
I heard a few fishing tales and a few mushroom hunting successes, but neither have been what was last year. Weather affects all aspects of life.
It was exciting to hold Community Good Friday Services and Easter Sunday morning services in the new Christian Church building.
Gardening is in full swing now, although mine is a "raised" bed type and it was pretty dry early. I had a hard time getting seeds to come up without watering and then it rained too hard on the loose soil. I usually have good luck with lettuce and spinach, not this year! I think if I was a pioneer, we might be looking at a sparse winter for food. Maybe things will perk up with tomatoes, peppers and green beans before the next big storm.
The good 'ole days… the days when the river bank wasn't so hard to get up and down, where a man could put in a boat with ease or sit down with his fishing pole. What has happened to the river?
Too many floods for one thing and Father time changes everything. The days when the town was hustling and bustling on Saturday night or even during the week. When the homes were full of people, not rotted and falling down. Oh, the good 'ole days, the topic of conversation more than once this month at morning coffee.
At the end of April we just hope it doesn't flood with all the rain. What I learned this month: Time flies when it comes to kids and growing up!
May
May Day was celebrated by some early European settlers of the American continent. In some parts of the United States, May baskets are made. These are small baskets usually filled with flowers or treats and left at someone's doorstep. The giver rings the bell and runs away. Have you ever delivered a small basket of flowers and quickly run away?
The 'ol yellow house that I knew as the Myrtle Cox home has been torn down.
How's the gardening? I had a rough time getting the early crops up and the heavy rains were hard on the tomatoes. Potatoes look great. Hope the growing weather evens out. Mike reports lots of strawberry picking, but with all the rain his are rotting. Mine are finally ripening and happy to report, they are not rotting, but the roly-poly and snails like eating on them. It's flower planting season too. Love the flowers. One friend told me the reason I planted so many pots, it gives me something to do all summer watering them. By the end of summer I'm tired of the watering and say, I
won't plant so many anymore. But flowers are the joy of life, plant them and enjoy! Children are also the joy of our lives, most of the time anyway. We had fun enjoying the sites of KC. We also attended the Royals vs. Orioles game, which the Royals won and watched a wonderful fireworks display after the game.
I will attend my 40th class reunion at the Moline Alumni Banquet Memorial weekend. I'm not really that old, graduated young. It was a lot of fun to gather and reminisce with former classmates.
The rains keep coming. We seem to be in a rainy pattern the month of May. Reminds us of the rain of '07 & all the area flooding. Reports of 3-7" up and down the river every time it rained. Out here west of town we were lucky with two of the big rains, 'Ol Elk River stayed in it's banks. The Elk City Lake is pretty high right now on the rim dike. The farmers are out spraying the weeds before the next big rain. Working the ground causes much erosion with the big rains we've been having. It's hard to understand why Mother Nature wants to destroy the soil so. But we are expected to be good stewards and take care of the soil, thus more and more farmers are turning to no-till methods of farming to preserve the top soil from washing away. The rainy weather and rising waters are good for the fishermen. Lots of reports of big catfish being caught. Of course, the rising water can wash your boat away if you don't have it secured or wash away the lines set on the river or creek. But the thrill of the catch keeps them going back again.
With the Memorial Day weekend approaching, we all will have fun with family and friends and we must not forget the men & women who died to protect our freedoms. It's the reason all these political lefts & rights can act like nuts. Give them the respect due.
What I learned this month, warm weather is here when the anaconda's return to the chicken house, aka.. black snakes. I don't care if they are good snakes, eat mice and all that…. They don't do my heart a bit of good when I see one!
Jim Hogan, Teacher Hall of Fame
Jim Hogan, was inducted into the Kansas Teachers' Hall of Fame. The Kansas Teachers' Hall of Fame is the first one of its kind in the United States. It is dedicated to early and present day teachers who have devoted their lives to the profession. Jim Hogan received the notice he was going to receive the honor last month.
Hogan worked as a teacher in the Industrial Arts for 35 years before retiring in 2005. He began his career in 1970 to 1975 at Roosevelt Middle School in Coffeyville teaching General Shop. In 1976, he moved his teaching skills to Independence High School where he taught Materials and Processes l, Materials and Processes ll, Machine Woodworking Technology, and Advanced Cabinet and Furniture Making. In 1976, Hogan added to his schedule the position of adjunct teacher with Independence Community College teaching Woodworking l and Woodworking ll. It was in 2005 that he decided to go into retirement from his teaching responsibilities only. He continues to be involved in his community on a variety of committees and boards.
The Good Old Days
Obituaries
DentonJames G age 84, died April 21
Bottom, Betty L. age 61 passed away March 29th
BrownMary Kathryn age 71 died April 10.
Dunham, Russell Dwayne passed away May 4
McKinzie, Olive Maxine, age 94 passed away May 5th burial in Oak Hill
Bilyeu James age 77 died May 4th burial in Oak Hill Cemetery
Conrad Christa G. passed away May 13,
Smith, Andy age 48 passed away May 14,